Foldable Mattress ( Razaai Type) Natural Kapok Silk cotton (ilavam panju) 6.25x4 Fts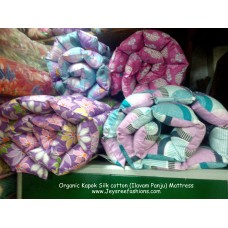 Brand:
jeysree Fashions
Product Code:
JCM_12_Razaai_6.25 X 4 X1.5
Availability:
In Stock
Price:
INR. 4,200.00
INR. 3,300.00
Ex Tax: INR. 3,300.00
Foldable Mattress ( Razaai Type) Organic Pure Kapok Silk cotton ilavam panju Product- 6.25x4 Feets
Mattress Size :

6.25 X 4

feets , Thickness - 1.5 inches

Filler Material - Pure organic Kapok Silk cotton (Ilavam panju) [No Chemical | No Foams | No Sponge | No Rubber ]
Outer cover- Soft Bombay dying Cotton
Benefits
Comfortable , Durable, Purely natural
Non - Allergic
Eco - Friendly
The Symbol of Softness
Free Shipping in india
Door step Delivery
Easy to Carry
Foldable
Payment is easy and secure with options like net banking or credit or debit card.​
Benefits of Kapok Silk cotton
100% Natural and Organic
Non - Allergic
Eco - Friendly
The Symbol of Softness.
Affordable & Long time.
Comfortable ,Finest Quality & Durable
All natural Kapok fill is an ideal natural down alternative. Kapok naturally offers the best properties of silk, cotton, wool and down fills. It's soft yet supportive like silk, with a lighter and fluffier feel than cotton or wool and completely hypoallergenic. Our Kapok pillows are covered in luxurious organic-cotton and are 100% natural and chemical free. If you have been in search for a down alternative pillow that is 100% natural, soft, supportive, lofty and durable, than these Kapok pillows are for you! Available in Standard, Queen and King size with your choice of Light, Medium or Heavy fill. All fill levels have a soft feel for ultimate comfort
Natural Kapok Pillows are ideal for someone who...
Wants a natural fill that does not compress as quickly as cotton or wool
Wants a natural fill pillow, but prefers more loft than silk
Needs a hypoallergenic pillow that does not contain chemicals or synthetic material
Features of Natural Kapok Pillows
100% Natural

: covered in organic cotton and filled with natural Kapok fiber

Kapok Fill

: is a fiber from a renewable source, harvested from the seedpods of the once-sacred Ceiba tree. This tree, known for its medicinal uses, also provides food, shelter and transportation for its ecosystem, including man.

Hypoallergenic

: kapok is grown and processed without the use of chemicals and is a good natural alternative for those allergic to down or wool.

Kapok vs. Cotton

: it is 8 times lighter than cotton with a more lofty feel and will not compress as quickly.

Kapok vs. Silk

: the fiber is soft and silky like silk, providing a supportive yet fluffy feel.

Kapok vs. Wool

: it is washable, odorless and will not compress as quickly as wool

Kapok vs. Down

: it has a unique down-like quality but none of the allergens common in down
Fill level: available in your choice of light, medium or heavy fill. All fill levels offer a soft feel but with different profile heights. Light fill is recommended for back and stomach sleepers. Side sleepers should use a medium fill pillow and those that like a really lofty pillow should choose the heavy fill.

Sizes:

available in Standard, Queen and King. Sold individually.

Vegan

: these pillows contain no animal products.
Plus Points:
Soft feel no matter what fill level
Supportive to head and neck
Very scrunch able, great for side sleepers
Maintains comfortable temperature, did not get hot while sleeping
Affordably priced for a natural fill
Hypoallergenic with all natural fill and organic cover – no chemicals or animal products in this pillow
disclaimer :
The product image shown is illustrative purpose only , Actual product may differ
Kapok in other Languages
English - Kapok, Ceiba, White Silk-Cotton Tree
Spanish - Ceiba
French - Fromager
Surinamese - Kankantrie
Hindi - Safed semal सफ़ेद सेमल
Manipuri - মোৰেহ তেৰা Moreh Tera
Malayalam - Pannimaram
Tamil - Ilavam Panju (Silk cotton)
Telugu - Tellaburaga
Marathi - Samali
Kannada - Dudi
Sanskrit - Kutashalmali
Bengali - শ্ৱেত সিমল Shwet Simul
Sinhala - Kotta
Ashante, Twi and Fanteen - Onyãã, or Onyina
Mandingo - banã, bãnda (Dioula), bantã (Malinké), banti