Foldable Mattress- Razaai Type-Natural Kapok Silk cotton (ilavam panju) 6.25 X 4 Feets + Free Pillow worth of 500 Rs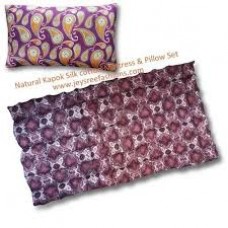 Product Code:
JCM_12_Razaai_6 1/4 X 4 X1.5
Availability:
In Stock
Price:
INR. 3,800.00
INR. 3,300.00
Ex Tax: INR. 3,300.00
Foldable Mattress ( Razaai Type) Organic Pure Kapok Silk cotton ilavam panju Product- 6.25 X 4 Feets + Free Pillow worth of 500 Rs
Mattress Size :

6 1/4 X 4

feet , Thickness - 1.5 inches

Filler Material - Pure organic Kapok Silk cotton (Ilavam panju) [No Chemical | No Foams | No Sponge | No Rubber ]
Outer cover- Soft Bombay dying Cotton
Free kapok /Silkcotton / ilavam Panju Pillow (size 22x12")
Benefits
Comfortable , Durable, Purely natural
Non - Allergic
Eco - Friendly
The Symbol of Softness
Free Shipping in india
Door step Delivery
Easy to Carry
Foldable
Payment is easy and secure with options like net banking or credit or debit card.​
Our Pure Kapok Silk cotton mattresses provide the proper spinal alignment and support while sleeping, it will protect your body and help relieve stress on all muscles and joints These mattresses are devoid of harmful chemicals and chemical odour.
disclaimer :
The product image shown is illustrative purpose only , Actual product color may differ
Kapok in other Languages
English - Kapok, Ceiba, White Silk-Cotton Tree
Spanish - Ceiba
French - Fromager
Surinamese - Kankantrie
Hindi - Safed semal सफ़ेद सेमल
Manipuri - মোৰেহ তেৰা Moreh Tera
Malayalam - Pannimaram
Tamil - Ilavam Panju (Silk cotton)
Telugu - Tellaburaga
Marathi - Samali
Kannada - Dudi
Sanskrit - Kutashalmali
Bengali - শ্ৱেত সিমল Shwet Simul
Sinhala - Kotta
Ashante, Twi and Fanteen - Onyãã, or Onyina
Mandingo - banã, bãnda (Dioula), bantã (Malinké), banti